>>> FLYTYING : PLUMES PARDO / FEATHERS OF COQ DE LEON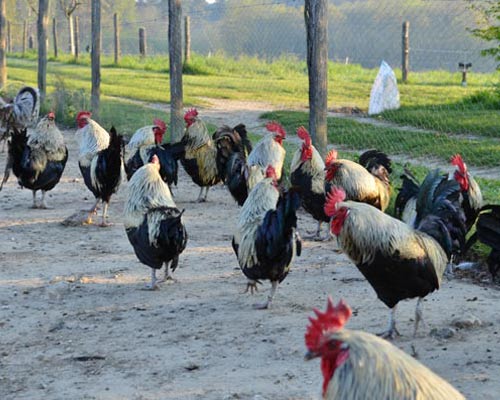 Je suis fabricant de mouches professionnel en France depuis 1987. J'ai commencé par élever des coqs de pêche Limousin et depuis 2004, j'élève une autre variété de coqs de pêche d'origine espagnole.
J'ai la chance d'avoir une bonne souche de coqs : je possède maintenant un peu plus de 100 coqs pardo avec toutes les nuances de couleurs.
L'élevage de ces coqs est assez classique. Les coqs sont regroupés par lots dans des enclos assez vastes pour profiter d'une nourriture naturelle et variée. La nourriture de base est le blé et le maïs, parfois de l'orge, de l'avoine ou du tournesol. Il faut une surveillance suivie des coqs surtout au printemps pour éviter que les conflits entre coqs ne dégénèrent.
Les plumes sont prélevées environ 3 fois par an, ensuite triées et mises en bouquet de 12 plumes. Je produis environ 300 à 400 poussins par an, qui après sélection peuvent donner 50 coqs intéressants pour la plume.
---
Since 1987, I am a french pro flytyer. I started to breed with many cocks from Limousin for fishing feathers. So since 2004, I breed up an another kind of fishing cocks from Spain.
I am lucky to get a right cock's genetic : now I get more than 100 cocks of Leon with many colours.
The breed of my cock is natural. The cocks are grouped by lot in many large poultry yards to grow up with miscellaneous natural food. The basic food is corn, maize, barley, oats or sunflower. The cocks often fight on spring time and an real watching must been done.
The feathers are striped off 3 times a year, then checked and packed by lot of 12 feathers. I breed up 300 to 400 chickens a year to select 50 cocks for product.

TOUTES LES PLUMES PROPOSEES PROVIENNENT DE MON ELEVAGE DE VOLAILLES.
ALL THE FEATHERS COME FROM MY POULTRY YARD

COQ INDIO RUBION /
RUBION COQ DE LEON (feathers cock) /
GALLO DE LEON INDIO RUBION

Ref. : PP001
Coloris : roux cuivré, sans pigmentation
Colours : rusty, speckless
pochette de 12 pelles / 12 feathers per pack
Prix / Price : 6,00€

COQ PARDO CORZUNO /
CORZUNO COQ DE LEON (feathers cock) /
GALLO DE LEON CORZUNO

Ref. : PP002
Coloris : pigmentation noir, très pointillé
Colours : dark pigment, full speckled
pochette de 12 pelles / 12 feathers per pack
Prix / Price :6,00€

COQ PARDO ENCENDIDO /
ENCENDIDO COQ DE LEON (feathers cock) /
GALLO DE LEON ENCENDIDO

Ref. : PP003
Coloris : roux cuivré, pigmentation brun, bien pointillé
Colours : rusty, light brown pigment, speckled
pochette de 12 pelles / 12 feathers per pack
Prix / Price : 6,00€

COQ PARDO FLOR DE ESCOBA /
FLOR DE ESCOBA COQ DE LEON (feathers cock) /
GALLO DE LEON FLOR DE ESCOBA

Ref. : PP004
Coloris : tabac, reflet brillant, pigmentation noire, très pointillé
Colours : tobacco, brillance, dark pigment, full speckled
pochette de 12 pelles / 12 feathers per pack
Prix / Price : 6,00€

COQ PARDO MEDIO /
MEDIO COQ DE LEON (feathers cock) /
GALLO DE LEON MEDIO

Ref. : PP005
Coloris : jaune crème, pointillé gris foncé
Colours : light ivory, dark gray speckled
pochette de 12 pelles / 12 feathers per pack
Prix / Price : 6,00€

COQ PARDO OSCURO /
OSCURO COQ DE LEON (feathers cock) /
GALLO DE LEON OSCURO

Ref. : PP006
Coloris : gris foncé, très pointillé
Colours : dark gray, full speckled
pochette de 12 pelles / 12 feathers per pack
Prix / Price : 6,00€

COQ PARDO SARRIOSO /
SARRIOSO COQ DE LEON (feathers cock) /
GALLO DE LEON SARRIOSO

Ref. : PP007
Coloris : couleur paille gris, pigmentation noir, très pointillé
Colours : medium ivory, dark pigment, full speckled
pochette de 12 pelles / 12 feathers per pack
Prix / Price : 6,00€